Hat Day Tomorrow!!!! Bring a dollar and wear your favorite hat!!!!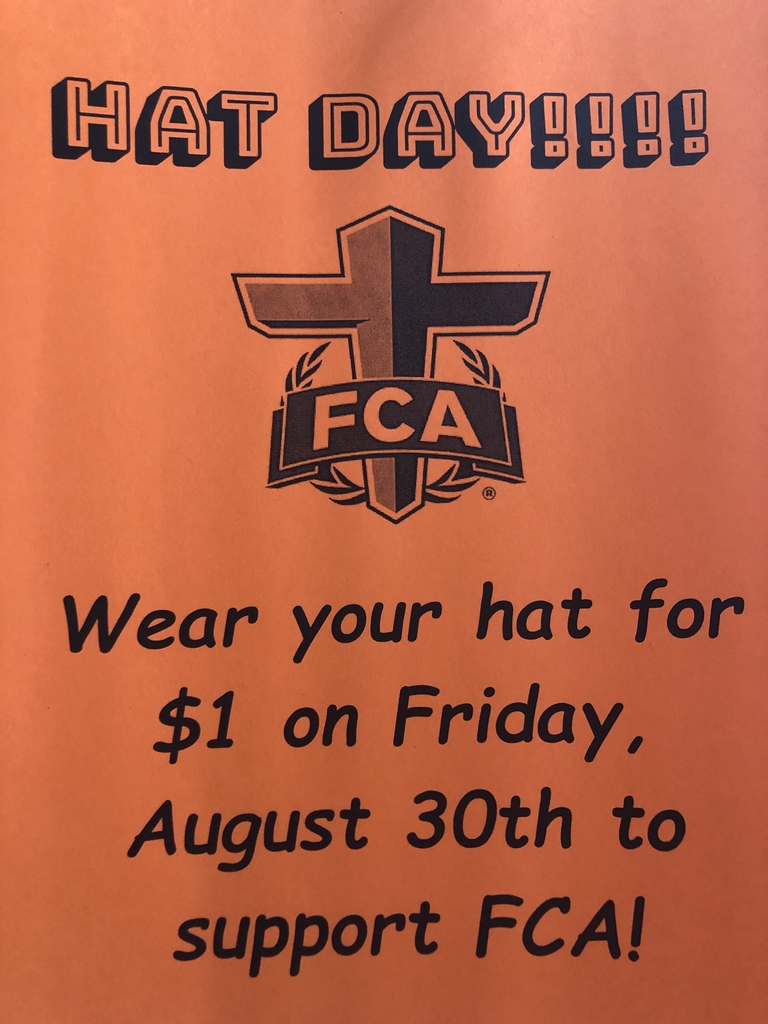 The varsity football game vs Southland scheduled for Friday, Sep. 6 has now been rescheduled for Thursday, Sep. 5 and starting at 6:30. There will be no JV football game next week.

Monday Aug 27-Fall pictures, Sr. Pictures, football and c-country pictures. Thursday Aug 28-JV Football here vs Highland 7:00 PM Friday Aug 29-Varsity Football @ Highland 7:30 PM End of the first 3 weeks **Note Monday September 2 is a school holiday.

Grady Community: Due to construction associated with the bond, parking will be limited for events during the 2019-2020 school year. We apologize for any inconvenience this lack of parking may cause. Please refer to the map for parking availability.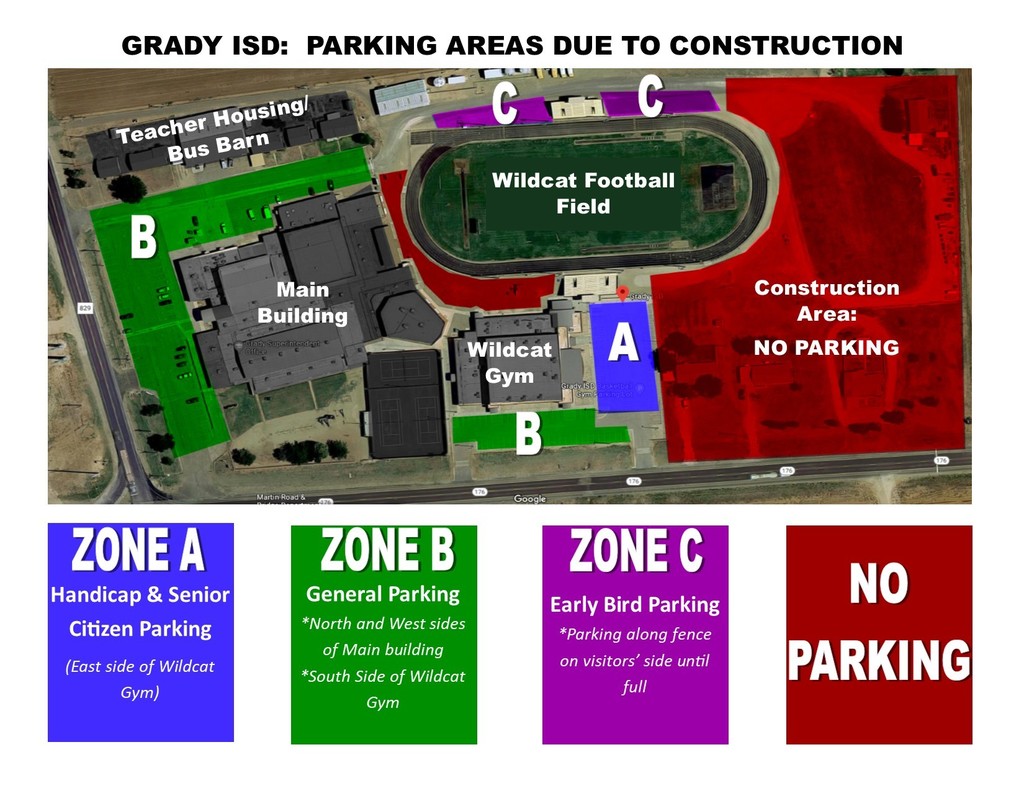 Picture Day is MONDAY. Notes and order forms are going home today. All order forms must be returned. Seniors need to be ready to take photos at 8. They will not have time to get ready at school.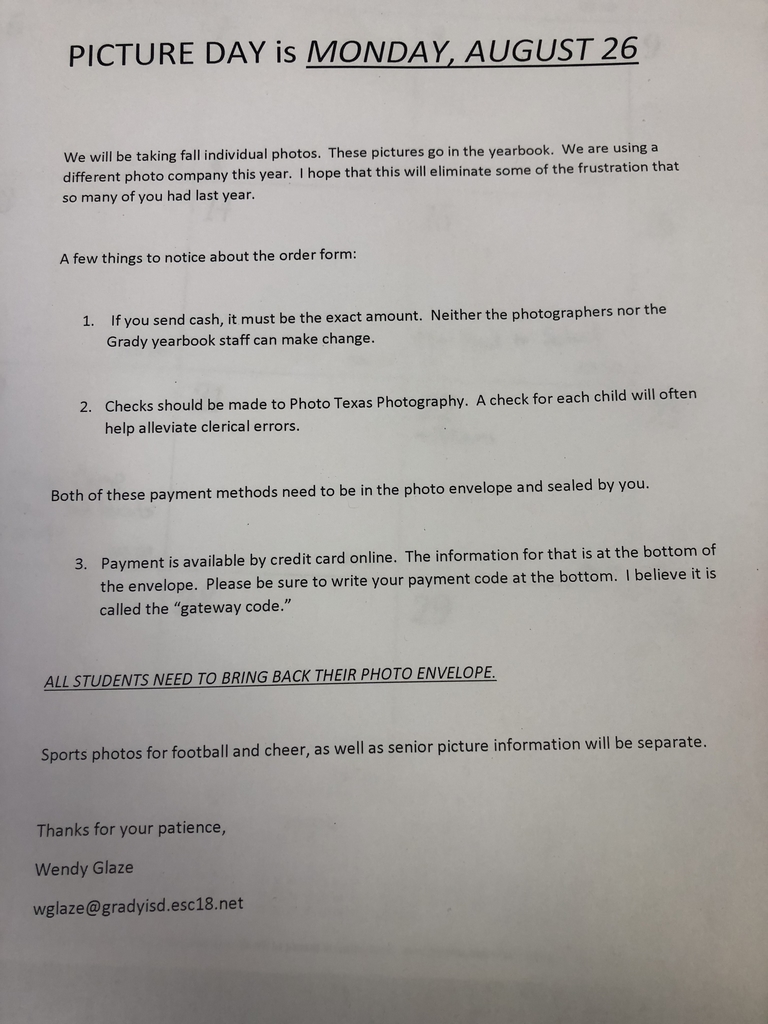 Tall City Invitational Schedule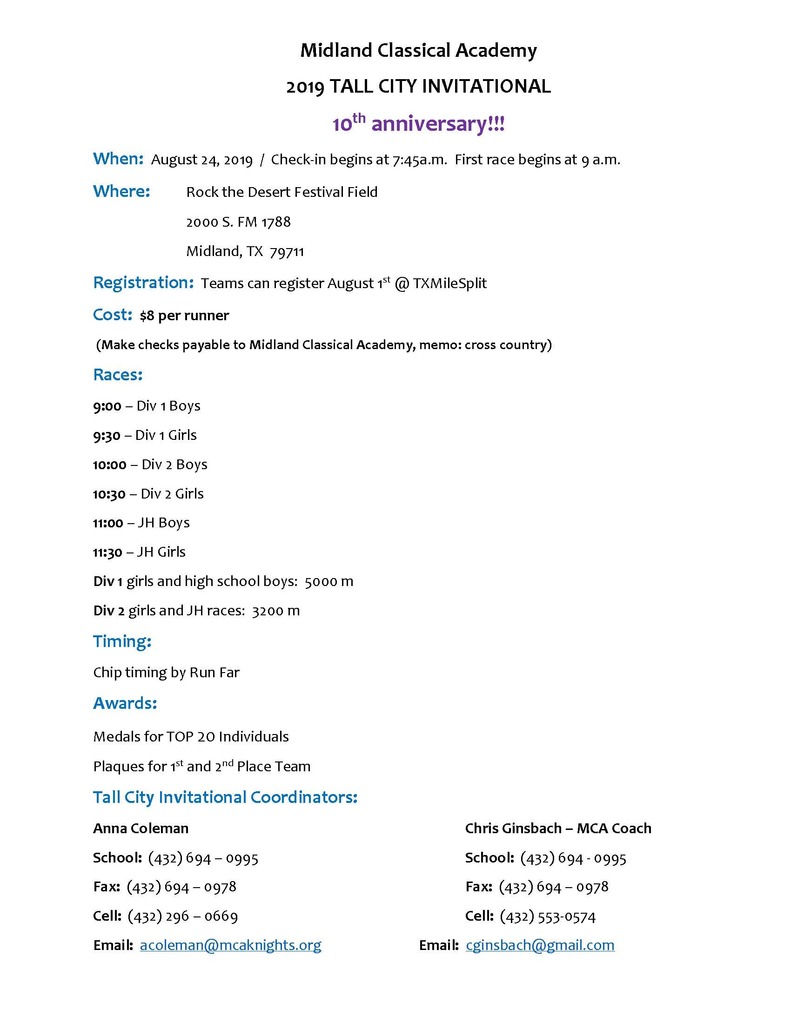 You can order spirit shirts online. You will have to pay tax through the website.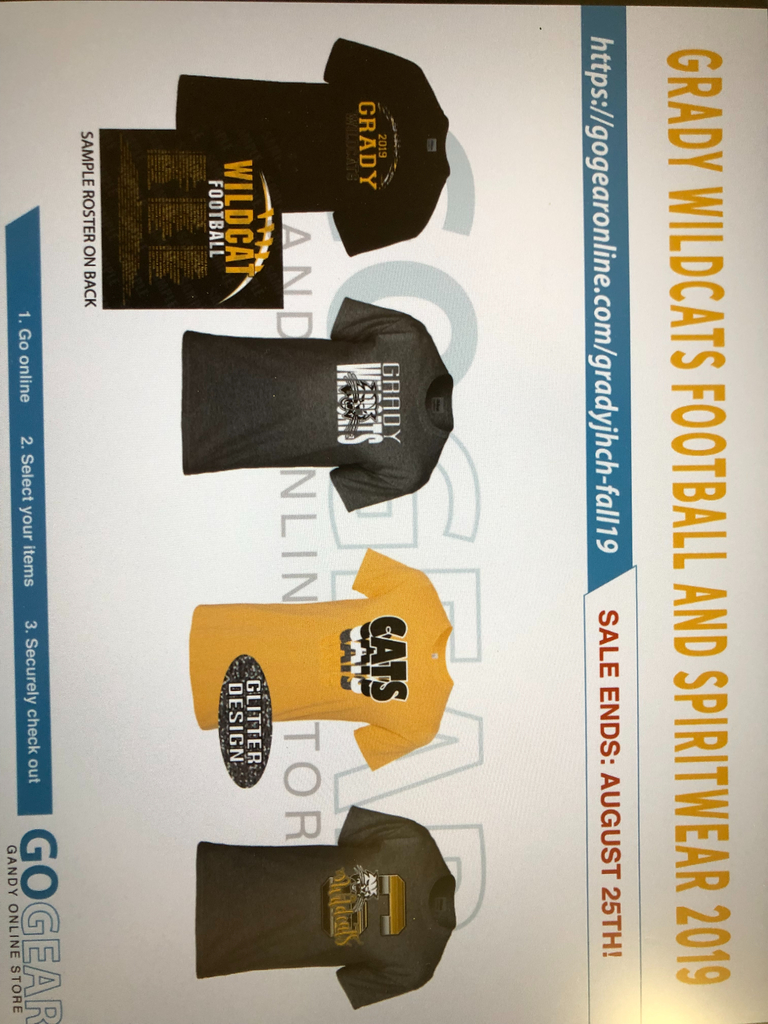 Midland Buses will be running late today! Please do not be concerned when they are not there! Sorry for the inconvenience.

Parents of 7-12 students are invited to an informational meeting on the district drug testing policy. The meeting will be at 5:30 PM in the wildcat gym on the home side on Tuesday, August 20 before meet the wildcats.

Order forms for new Grady T-shirt's went home today. Orders are due 08/23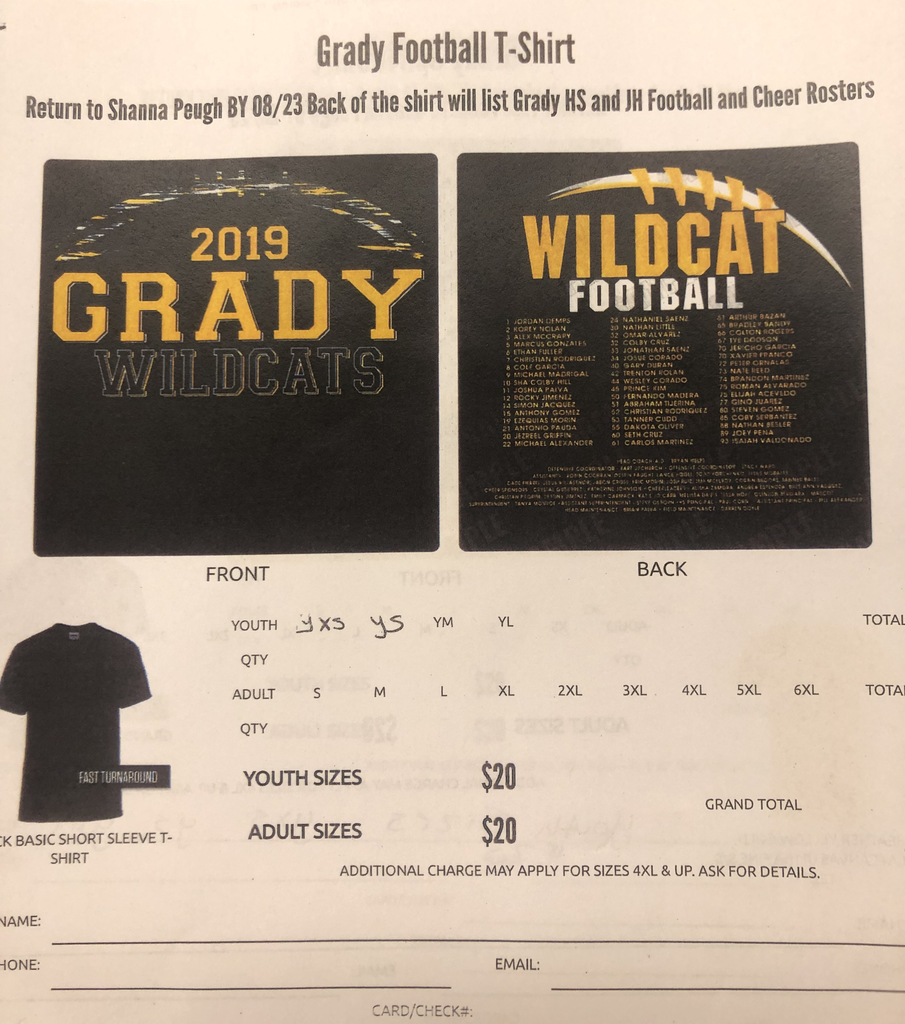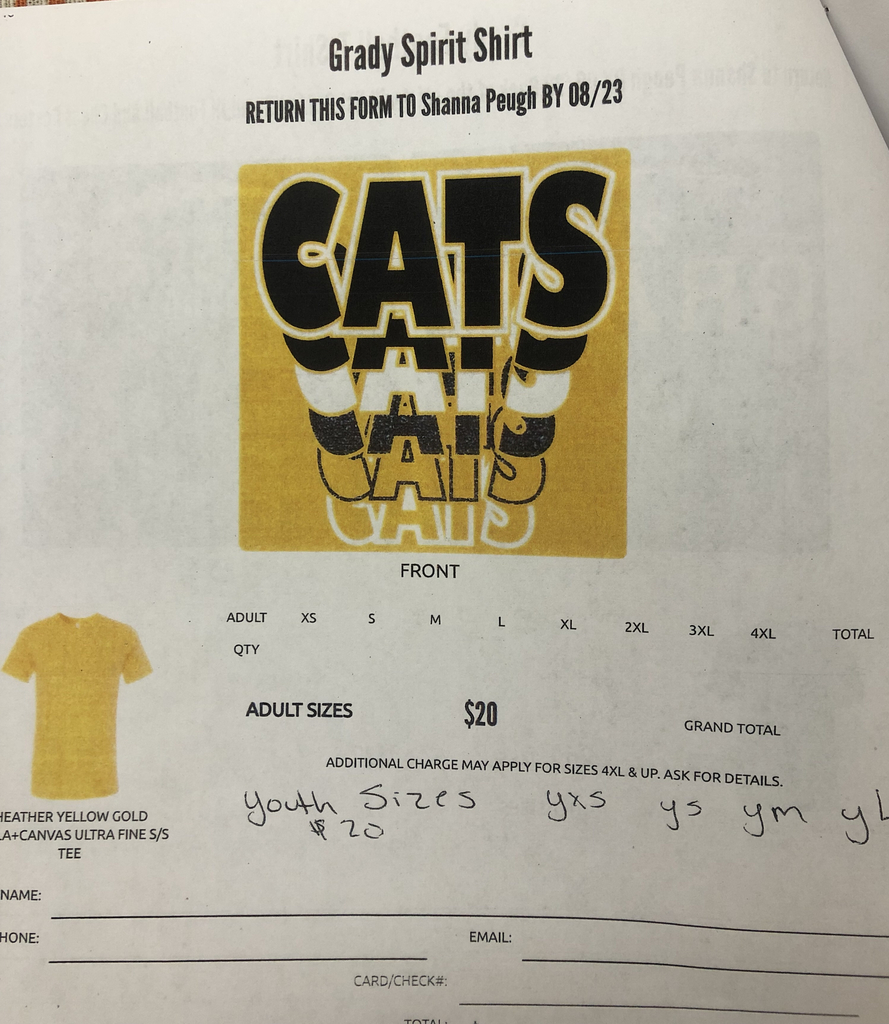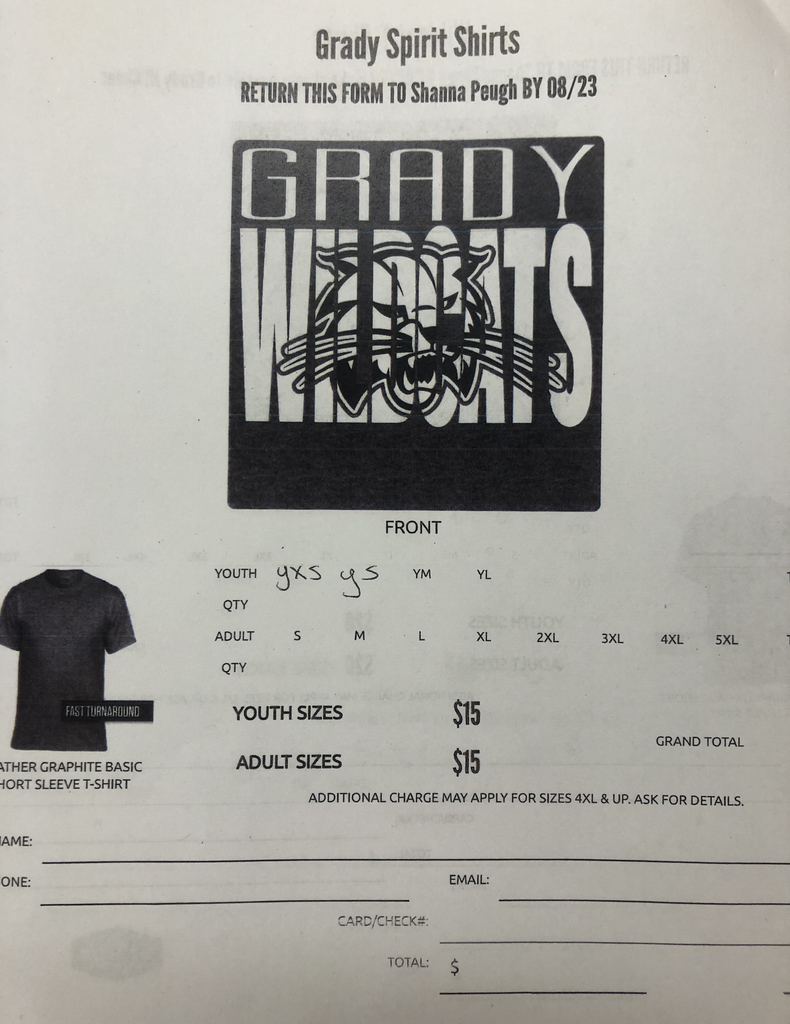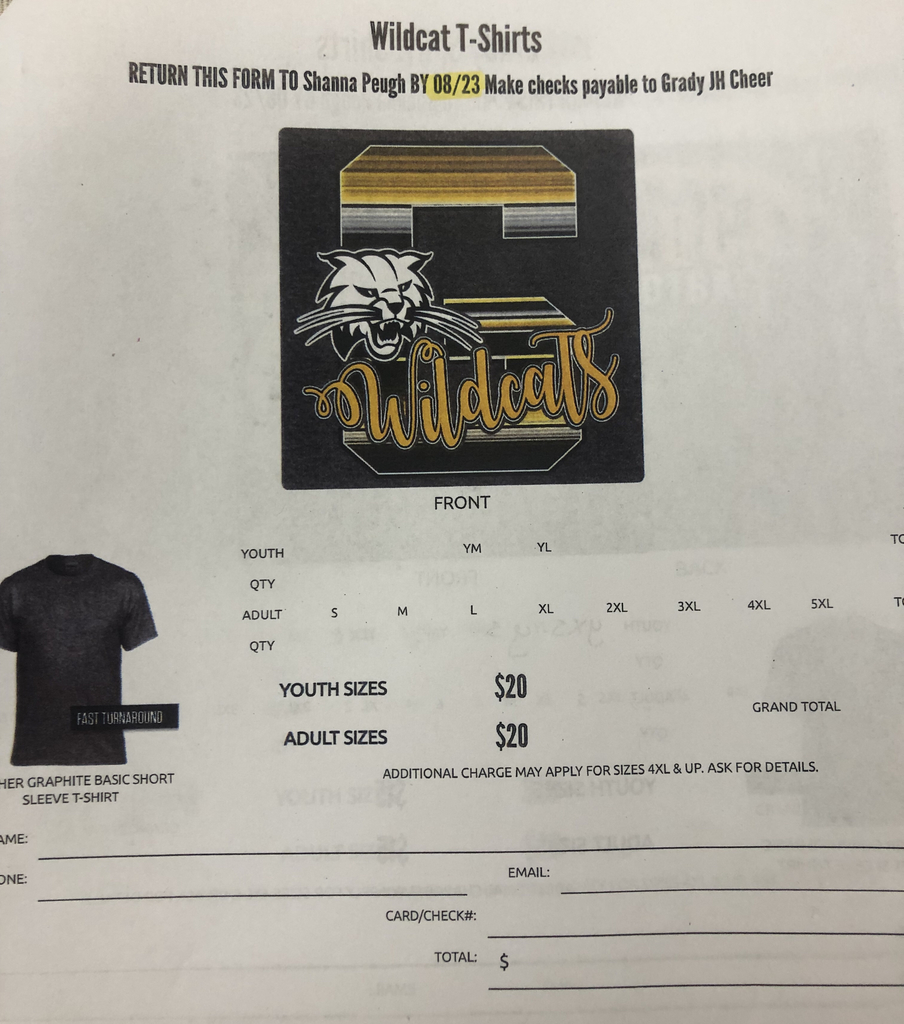 Secondary students, join us FCA in the morning in the lobby of the auditorium.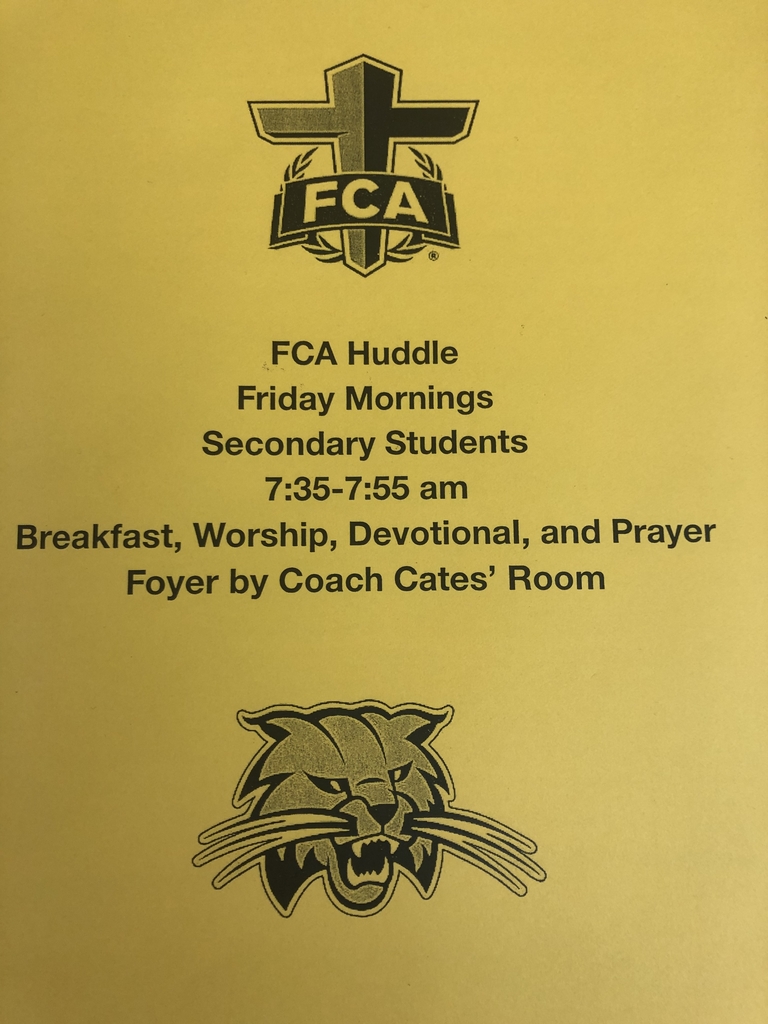 Join us for our first annual Back to School Bash. Contact Coach Cates, Mrs. Peugh, or Mrs. Sims if you have any questions.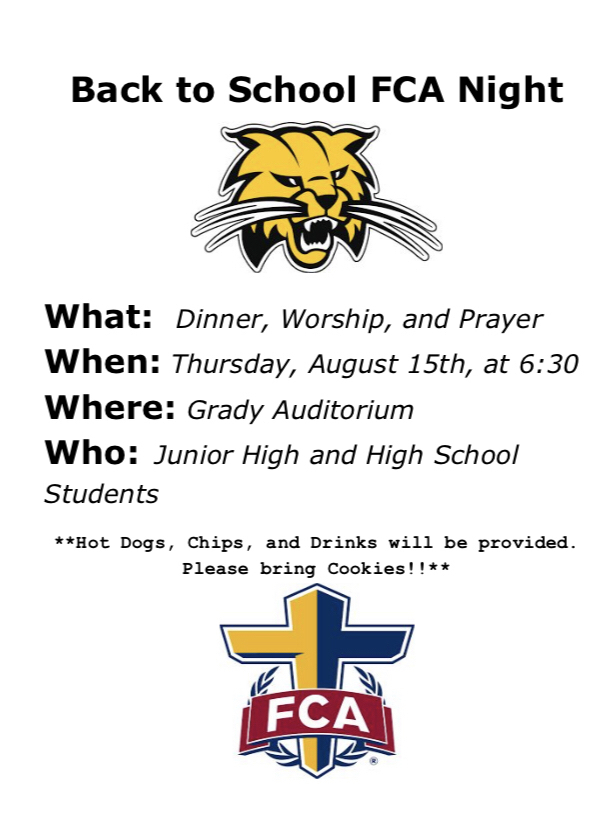 Just a reminder! JH and HS Registration is tomorrow, Tuesday August 6th, from 9:00 to 2:30! Please make sure that you are up to date on your shots. You will not be allowed to register without a current shot record! See you tomorrow!

Registration and TSI Testing All 6th grade-12th grade students will have registration on Tuesday, August 6th at 9:00 am-2:30 pm. Please make sure that you bring updated shot records. You will not be able to register without them. Please call the school if you have questions about that. TSI Testing for all juniors and seniors will be offered on Monday, August 5th at 9:00 am. It is $5/test. Please call the school if you have any questions regarding the TSI Testing. It is mandatory that you have met the requirements for Dual Credit classes prior to registration if you plan on taking classes through Howard College.


We would like to congratulate our very own Superintendent, Mr. Leandro Gonzales, Jr. on being named Region 18's Superintendent of the Year. We are very proud! Congrats Coach G!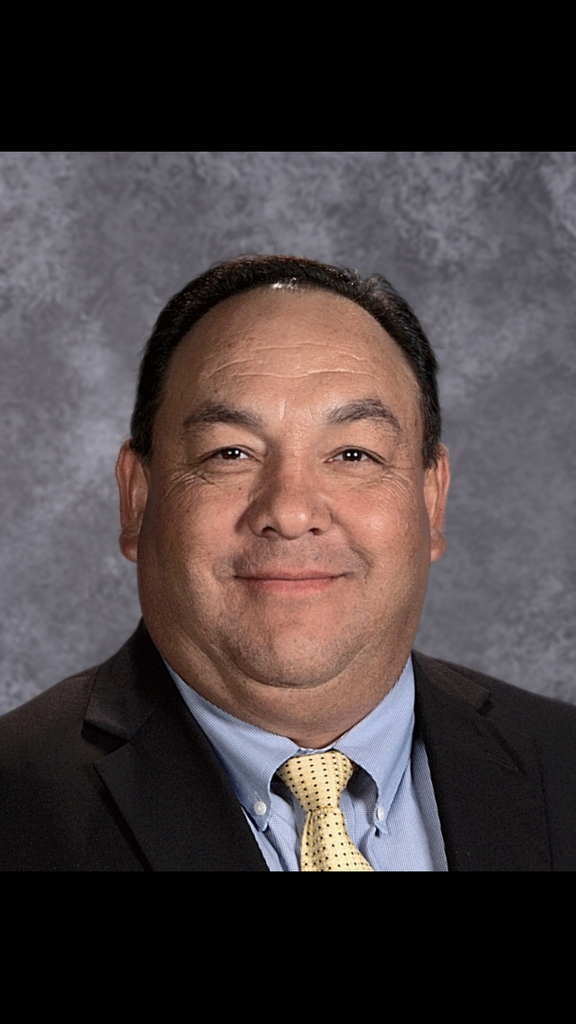 Just a reminder, Mr. Britten and Mrs. Russell's retirement reception is going on now in the commons area! Stop by and wish them well. They will be missed.

Please pay lunch charges as soon as possible. You may call us at the school if you are not sure how much, if any, is owed on your account.

The Grady Education Foundation is at it again. Wendy Glaze has many hats to wear at Grady ISD, but one of them is yearbook sponsor. Board Members awarded a grant for a new camera and software to help the class with editing and photography. Congratulations! This made for a lot of smiles today and for years to come!